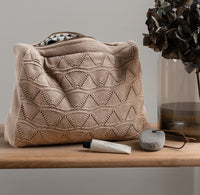 LAST ARRIVAL...
Toiletry bags, clutches and wallets in four nice colors and beautiful patterns. Buy as a set or individually.
See all accessories here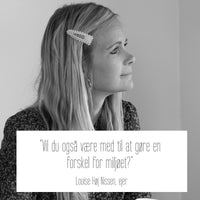 No one can do everything, but everyone can do something to benefit the environment and sustainable development!
"With By LOHN's 100% organic knitted products, it is my wish to inspire to a greener lifestyle, by making it easy and pleasant to surround yourself with good, simple, durable and luxurious interior products & accessories in high quality and simple design, you can use for many years.
My desire to create an interior & accessories brand based on the old craft of knitting that has been upgraded in style, design & patterns to a contemporary and Nordic expression, and at the same time goes hand in hand with contributing positively to nature, is all united in By LOHN.
I believe, with joint help we can all create a positive transition for the benefit of the environment and future generations by buying LESS but in BETTER quality, and have it for a long time" Less is More!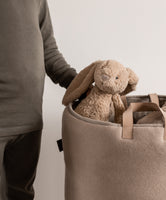 NEW! By LOHN KIDS
By LOHN KIDS are functional and aesthetic interior products and accessories of high quality for the modern and environmentally conscious parent. All products are made based on the old craftsmanship of knitting, updated to a modern and contemporary design with respect for the environment. All By LOHN KIDS products are knitted in 100% organic cotton - GOTS certified. The range is for the expectant mother, baby and child and many of the products can grow with the child for many years. Beautiful muted Nordic colors and unisex design.
READ MORE HERE
SOFT TEXTILES THE WHOLE FAMILY WILL LOVE
SEE WHAT OTHERS ARE BUYING AND BE INSPIRED TO LIVE WITH CARE FOR THE ENVIRONMENT